September 11, 2017
You Have GOT to be Kidding Me
Posted by: The Brickmuppet at 01:15 PM | Comments (8) | Add Comment
Post contains 7 words, total size 1 kb.
1
I want people to be safe, but if you're not prepared to handle a hurricane, you've got no business living in Florida. (I say this as someone who has lived in Florida in the past, and lived through several hurricanes.)
Posted by: Rick C at Mon Sep 11 14:49:38 2017 (ECH2/)
2
Also,(I didn't see a way to attach an image in the wysiwig editor, so I used the HTML editor. Sorry if the post looks bad. Also, why does the source editor use a small caps font? This is horrible. I feel like I'm writing a telegram, except for not using words instead of punctuation.
Posted by: Rick C at Mon Sep 11 14:54:42 2017 (ECH2/)
Posted by: Rick C at Mon Sep 11 14:55:07 2017 (ECH2/)
Posted by: Wonderduck at Tue Sep 12 00:54:33 2017 (1zQhi)
5
Wonderduck, for about the fifth time, I use the link inserter in the editor. I don't care that you don't believe me. Take it up with Pixy. You'll notice I don't put any image links on your blog, since I can't do them in away that pleases you, so please don't follow me around complaining about it on other blogs.
Would it get you off my back if I recorded a video of me using the editor to add a link and post it to Youtube?
Posted by: Rick C at Tue Sep 12 08:08:43 2017 (ITnFO)
6
Not trying to pile on here, but perhaps you're missing the step where you have to select some text to be the anchor before you hit the link button to add the link.
As for actually having an inline image, you have to use BBcode for that, not HTML.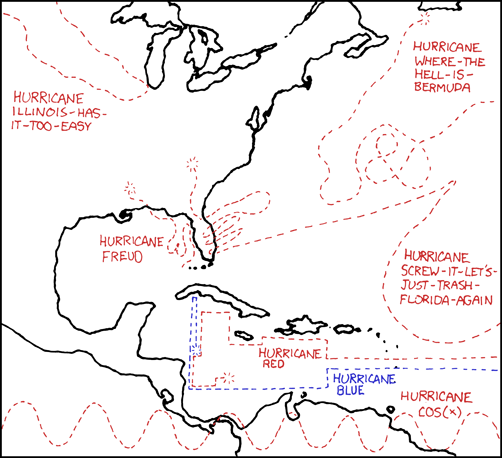 (Square bracket img=https://imgs.xkcd.com/comics/upcoming_hurricanes.png Square Bracket)
Preview is your friend as well.
Posted by: Mauser at Tue Sep 12 13:51:19 2017 (TYvUn)
7
Brick? Hello?
Turnabout is NOT fair play....
Posted by: ubu at Tue Sep 19 08:24:11 2017 (SlLGE)
8
Sorry...
I've been super busy, work, school family matters, checking in and out of the hospital, and formatting frustrations.
Thanks though.
Posted by: The Brickmuppet at Tue Sep 19 22:06:37 2017 (KicmI)
33kb generated in CPU 0.0157, elapsed 0.1871 seconds.
71 queries taking 0.1773 seconds, 358 records returned.
Powered by Minx 1.1.6c-pink.