May 21, 2007
They're BACK!!! Oh Noes!
Brood 13
is upon us!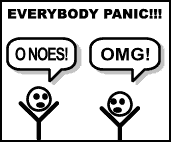 Well upon
Wonderduck
anyway....
We do have some big cicada outbursts in select counties every 13 to 17 years. This year we are supposed to get a very localized big one (up near Luray I think).
Actually we have cicadas every year in Virginia because of staggered hibernation periods and these "dog day cicadas" are bigger than most!
BUT THAT'S NOT ALL!! Here in Virginia we also get jellyfish infestations!
Hundred degree heat with 100% humidity in August! We have icestorms, snowstorms and we're just far enough north to get some of the worst 'Nor'Easters'! We get hurricanes! We get tornadoes! We even get
earthquakes
! (
YES WE DO TOO!
) In the fine clay soils of the mountains we get frost heaves, we get avalanches and like everyone, we get floods, and forest fires
and
we've got six species of poisonous snakes (OK 4 are rattlesnakes...but one, the cottonmouth, is one of the most aggressive venomous snakes in the world!) , yellow jackets, alligators, sandspurs, PeTANs black widows, brown recluses and fire ants plus we occasionally get red tides!
So I would not get all worked up about the return of the cicadas...if ...
.....If it didn't coincide with the
return of Rachel Lucas to blogging
, where she gives unsolicited advice to guys who use dating sites....which I'd think is a lost cause, but....)
BUT THAT'S NOT ALL not one but
2 posts
by Bill Whittle who's not been blogging for months! He gives another of his literate, rational and inspirational screeds ...er...
and then suggest we move into virtual reality and start a utopian community to get away from the bad people
.....I'll...er...think about that...
As if that wasn't disturbing enough.. in comment 5 to
this post
Habib explains EVERYTHING!!
(thanks to
Phil Bowmeister
for the last pointer)
Something is up...
(duck, cover, all that)
Posted by: The Brickmuppet at 09:08 PM | Comments (2) | Add Comment
Post contains 313 words, total size 3 kb.
May 15, 2007
Linky Luv
Wow, the
Anchoress
has had a
raging linky fit.
...
Actually the Anchoress has a remarkably interesting blog that I'd neglected blogrolling. Agree or disagree, she's generally thought provoking without being mean or insulting.
A case in point is
this piece
on the implications of Bloomberg's
mooted 3rd Party
run. I agree with her that it is really too early to pay any mind to the '08 race, my God, I've got a life afterall* , but after the Perot fiasco, the implications of this are somewhat scary.
But....it is way to fricking early to be worrying about presidential campaigns.
*
(full disclosure: I'm an undergraduate, unattached otaku...so I don't

actually

have a life)
Posted by: The Brickmuppet at 12:56 AM | No Comments | Add Comment
Post contains 115 words, total size 1 kb.
26kb generated in CPU 0.0427, elapsed 0.6111 seconds.
68 queries taking 0.5896 seconds, 244 records returned.
Powered by Minx 1.1.6c-pink.