May 15, 2007
The Scott Adams Plan for Iraq
Well, I don't know what to say.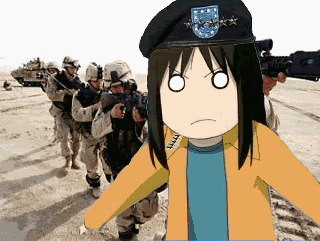 No, I have no Idea who made the General Osaka .gif...it showed up on a message board where it was most out of place.
Posted by: The Brickmuppet at 12:27 AM | Comments (5) | Add Comment
Post contains 37 words, total size 1 kb.
1
Ready for an unbelievably geeky nitpick? Whoever made the GIF doesn't know anything about American rank insignia. We don't use 5 stars any longer.
But when we did (in the 1940's and 1950's), the five were arranged in a pentagon, not in a line.
Posted by: Steven Den Beste at Wed May 16 12:56:56 2007 (+rSRq)
2
Oh, and they're supposed to be gold, not silver.
Posted by: Steven Den Beste at Wed May 16 12:57:15 2007 (+rSRq)
3
She's just an abstract representation of a general. It's like complaining about the Tiger in the infamous Azugirls-the-tank-crew picture not being historically accurate.
Posted by: Pete Zaitcev at Wed May 16 20:32:26 2007 (9imyF)
4
Many catgirls died this day....
Posted by: Brickmuppet at Wed May 16 20:35:29 2007 (V5zw/)
5
I just assumed that Gen. Osaka was a takeoff of "Baghdad Bob" (or whatever his name was), the bombastic Iraqi info minister. Seems like that job would fit her to a T.
Posted by: Wonderduck at Fri May 18 00:52:56 2007 (FgNgv)
Comments are disabled. Post is locked.
18kb generated in CPU 0.021, elapsed 0.5378 seconds.
69 queries taking 0.5291 seconds, 167 records returned.
Powered by Minx 1.1.6c-pink.